When I can't ride bikes for one reason or another, I often find myself being sucked further into the epic accounts of others and their tales of bikes, training and miles gone by. I've already passed on the
three cycling podcasts you should listen to
, and have to reiterate the need to check out Mike Creed's Open Mic. It just keeps getting better and better -
the Brad Huff interview
should not be missed, for many reasons.
Lately however, I have found my way back to
Fat Cyclist
. Fatty has always been a favorite read but two recent blog "mini series" have honestly been really, really, REALLY fun to read. They both center around the Salt to Saint endurance race - the first about a pre-event training ride, and the second about the ride itself. I've linked to both below, but be warned - you will feel compelled by his cliffhanger endings, to finish both stories in one sitting. Get comfortable and
please don't just skip to the end!
Actions and Consequences - One of Fatty's Salt to Saint Training Rides
Salt to Saint Race Report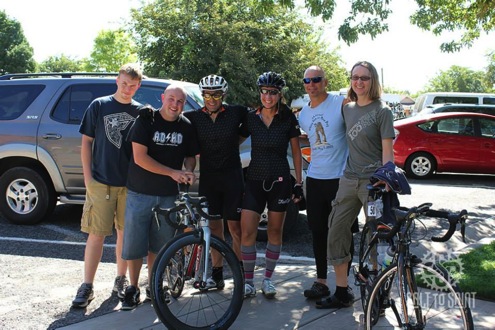 Fatty and The Hammer at the end of Salt to Saint.
photo courtesy of fatcyclist.com
Back to Mike Creed for a moment. Big kudos to
Colorado Cyclist
for stepping in as a sponsor of the podcast - it seems like a great fit.